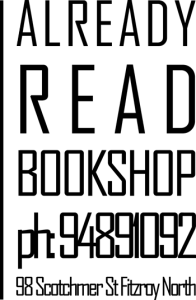 We are passionate about books and the absolute pleasure, joy and comfort that reading a good book provides and we value the personal connections with other book lovers that we make through our bookstore.
For over 10 years we have been offering an eclectic collection of quality secondhand books at great prices, across most genres with an emphasis on contemporary literary fiction and interesting non-fiction titles.
And if you are interested in recycling your quality used books then you are most welcome to email a list (or a photo) of the titles to: contact@alreadyreadbookshop.com.au
Come & visit today
With new stock arriving in our bookshop daily, you never know what interesting gem you will find & we love talking about the books we have enjoyed!
Just around the corner from local institution, Piedimonte's Supermarket on St George's Rd, the shop is easily accessible by public transport via:
#96 Nicholson St tram (stop #21)
#11 St George's Rd tram (stop #22)
What our customers think
Stumbled past this place whilst exploring Melbourne. What luck! Was directed to a book I had been long searching for and bought another two. Comprehensive catalogue. They who were working there were beautiful people. Just a shame I live in Sydney.
This is a gem of a bookstore. Great selection of books, carefully curated by someone who knows what they're doing. Most books look new or only lightly read. Lots of good Australian content. If Already Read was a rock album, it'd be describe as "all killer, no filler!"
Oh I love this book shop!
All the books you could ever want and most of them don't even look second hand
Love this bookshop, cannot walk out without at least 5 books in hand.